Metorin
Restores healthy digestive flora
30 Capsules, 30-Day Supply | Dietary Supplement
Enables optimal communication between BOTH your brains. 
Metorin is a clinically researched formula designed to enable optimal communication between your two brains – the one in your head and the one in your gut.
Patented BIO-Tract® safe passage system to ensure ALL healthy bacteria strands survive your acidic digestive tract
100% Guaranteed delivery of 15 billion CFUs of the 10 most critical live bacteria strands
Supports microbiome restoration… optimal health and well-being … vibrant life
Facilitates healthy communication between your head brain – and gut brain
Metorin
Restores healthy digestive flora
30 Capsules, 30-Day Supply | Dietary Supplement
Satisfaction Guarantee

Free Standard Shipping on order > $99
If you are not satisfied please return your product within the 90-days for a full refund, less shipping and handling. 
Product Overview
Metorin is a clinically researched formula designed to enable optimal communication between your two brains – the one in your head and the one in your gut.
You have 100 trillions microorganisms living in your microbiome – or gut brain – that are responsible for creating 90% of the neurotransmitters your head brain needs to send vital, urgent messages through your entire body.
A single Metorin tablet – taken daily – delivers 15 billion live CFUs of the 10 most critical bacteria strains your body must have to produce the hormones… immune messengers… and neurotransmitters needed for you to live a more vibrant – and longer – life.
As Metorin enables both brains to harmoniously work together – you'll experience improved overall health with your heart… lungs… blood pressure… bones and joints… kidneys… liver… memory and clarity of thought – and even your emotional health with a healthier balance in emotions… moods… anxiety… and your overall sense of well-being.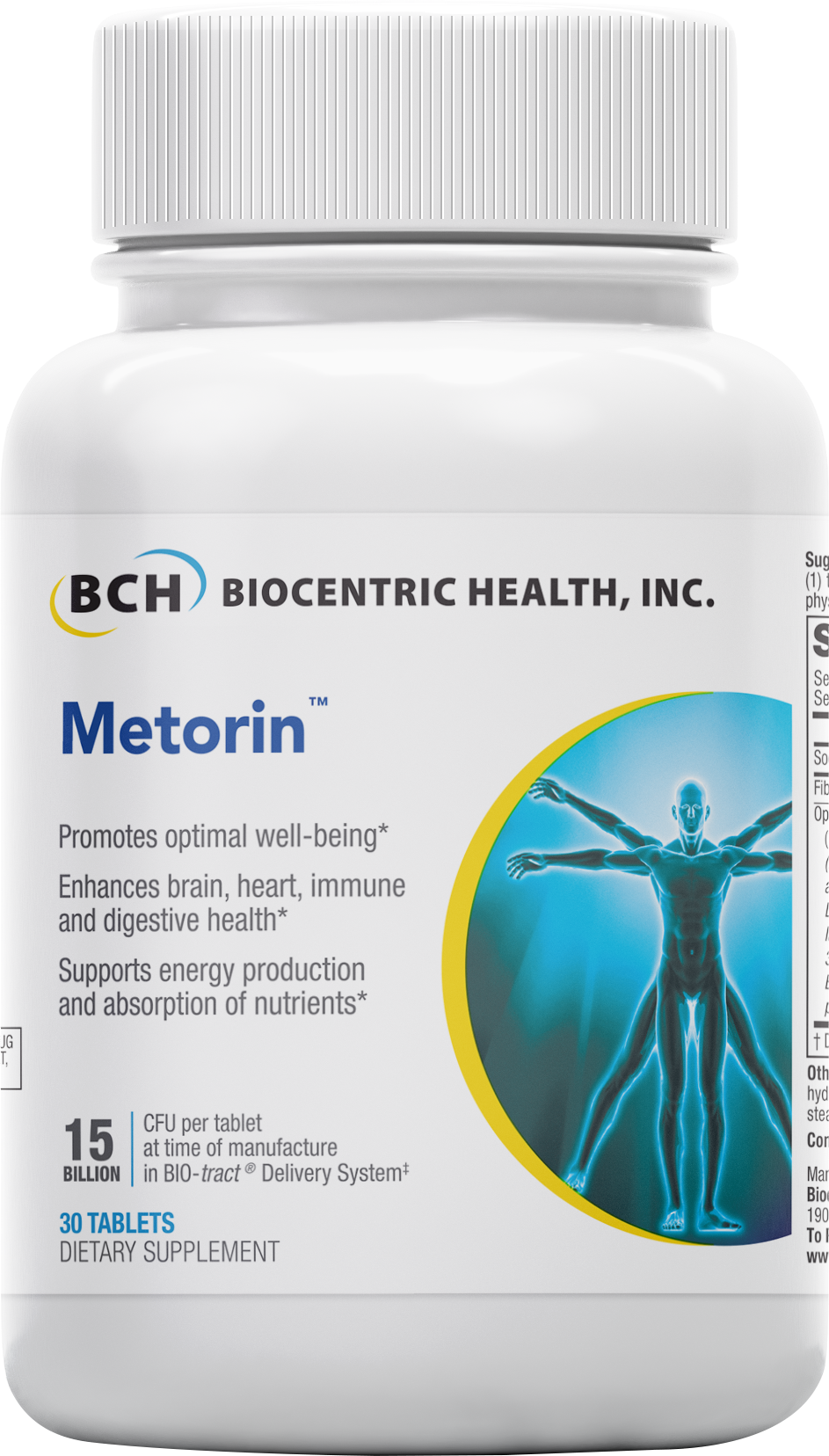 About Biocentric Health
At Biocentric Health we create cutting edge alternative health products. We've built our company on the foundation of identifying new ingredients to safely treat the health concerns of our customers.

ALL our products are completely safe and manufactured according to Good Manufacturing Practices as dictated by Congress and the Food & Drug Administration.

We value the over 375,000 customers (and growing daily) who've put their trust in our company to deliver best on the market nutritional supplements! That's why every single product we offer comes with a 90-day, 100% satisfaction guarantee! We are committed to doing everything in our power to count you as a satisfied customer.

In every single Biocentric Health product – we guarantee…

The manufacturing companies contracted by Biocentric Health, Inc. undergo extensive third-party evaluation of every facet of their production process and are certified as cGMP-compliant facilities.
Only well-researched, high quality and purity ingredients are being used in the formulations.

Purity, potency, and dosage accuracy is verified by the extensive testing during each stage of the manufacturing process from receipt of raw ingredients to the final product.

Precision blending is implemented during the manufacturing.

The finished product undergoes an extensive testing before it released for packaging.

The purity and potency of the products are verified by the third-party lab testing.

100% money back satisfaction guarantee (less shipping) for a full 90 days.

Easy to swallow capsules
Supplement Facts
Serving Size: 1 tablet
Serving Size: Per Container: 30
FiberAid
[Larch Arabinogalactan (Larix spp)]
250mg
†
Optimal Wellness Proprietary Blend (15 billion CFU at time of manufacture)
(Lactobacillus 30%,
Bifidobacterium lactis 15%,
Lactobacillus fermentum 5%,
Lactobacilluis lactis subsp. lactis 4%,
Lactobacillus helveticus 3%,
Bifidobacterium infantis 2%,
Lactobacillus paracesei 2%,
Streptococcus thermophilus 2%)
250mg
†
Other ingredients: microcrystalline cellulose, hydroxypropyl methylcellulose, pectin, sodium carbonate, stearic acid (vegetable source), guar gum, turmeric (color). Contains milk.
Suggested Use:
As a dietary supplement, adults take one (1) tablet daily with a meal or as directed by your personal physician.
Warning: Not intended for use by persons under the age of 18. Consult your healthcare professional prior to use if you have or suspect a medical condition, are taking prescription or OTC drugs, or are pregnant or lacting.
Warning:
Not intended to use by persons under the age of 18. Consult your doctor prior to use if you are taking anti-coagulant or anitplatelet medication, any other prescription or over-the counter-drugs, have or suspect a medical condition, or are pregnant or lactating.
*These statements have not been evaluated by the Food and Drug Administration. This product is not intended to diagnose, treat cure or prevent any disease.
Research
Metorin is a proprietary blend of 15 billion CFUs of live bacteria strains – cultured exclusively for Biocentric Health…
Metorin's clinically researched formula is designed to reinforce and restore your gut microflora– or second brain – so it produces essential neurotransmitters… hormones… and immune messengers to be sent to your cells … vital organs … and body systems… to ensure maximum overall health and wellness… [1-3]
Metorin works to enable and strengthen healthy communication between your two "brains" so you can finally get stronger nutrient support to enhance your …
Immune health
Brain health… cognitive function… and neurotransmitter production
Balance in stress levels and mood
Cardiovascular activity
Energy production
Nutrient absorption
Inflammation management
General health and wellness
With Metorin – you get 10 highly active non-GMO bacteria strains — meticulously selected after years of cutting edge research to determine maximum overall benefit to general health:
Lactobacillus plantarum
Lactobacillus acidophilus
Bifidobacterium lactis
Lactobacillus fermentum
Lactococcus lactis subsp. lactis
Lactobacillus helveticus
Bifidobacterium infantis
Bifidobacterium longum
Lactobacillus paracasei
Streptococcus thermophilus
To ensure all 15 billion CFUs of health bacteria survive your highly acid digestive tract – Metorin is formulated with BIO-tract® – a patented deliver system that has been shown to protect the good bacteria from being destructed in the acidic environment as the one found in our stomach. The patented coating and other processing steps enables live bacteria to pass through your GI tract to the small intestine – without risking potency or degrading the active agent. [4]
Metorin is made in tablet form to for better absorption. The tablet dissolves in your mouth and throat upon contact with a liquid and then transforms into a gel-like state as it is transported directly to your microbiome. This arrive alive process means Metorin is the only tablet that guarantees 100% gastric acid protection and controlled delivery to the GI tract over 6-12 hours!
The flourishing boost of healthy bacteria Metorin delivers to your microbiome helps both your brains work together for maximum health benefits for your entire body. You can have the confidence you'll have a better chance at living longer… feel younger and happier… and avoiding the health problems that plague many as they grow older every time you take Metorin!
BIO-Tract®- Delivery System is a registered trademark of Probi USA, Inc. in the United States (registered in the name of Probi USA, Inc.)